Kennedy Bidge is Officially Closed for 6 Months
News Release 5:22a.m. EST January 19, 2016
http://www.whas11.com/story/news/traffic/accident-construction/2016/01/18/kennedy-bridge-scheduled-close-overnight/78958734/
LOUISVILLE, Ky. (NEWS RELEASE) – The John F. Kennedy Memorial Bridge is officially closed.
The closure happened at 5 a.m. Tuesday. The full closure of the Kennedy Bridge is expected to last more than six months.
The work on the Kennedy Bridge is part of the Downtown Crossing portion of the Ohio River Bridges Project. Crews with Walsh Construction are installing a new floor system, which is expected to add decades of new life to the 52-year-old bridge.
Impact on Traffic
During the work, the newly-opened Abraham Lincoln Bridge will continue to carry both northbound and southbound I-65 traffic. I-65 southbound motorists heading to I-64 and I-71 N will require alternate routes.
Just over 22,000 drivers travel from I-65 South to I-64 East and I-71 North on a daily basis. This is about 10 percent of the nearly 225,000 vehicles that travel across the Ohio River between Louisville and Southern Indiana each day.
During the closure, signed detours will be in place. The signed detours will be I-265 and I-264, and drivers are also expected to use local streets to reach their destinations.
Improvements Being Made
A new floor system will be built on top of existing floor beams, with all new stringers, bearings and diaphragms the length of the Kennedy Bridge. Floor beams run between the two trusses that frame the bridge and support the bridge deck. Stringers are the primary vertical support members of the floor system, running with traffic. Approximately 3.5 million pounds of old steel will be removed and 3.5 million pounds of new steel will be installed.
After the new stringers are installed, a new concrete deck will be formed. The new deck will include 5,700 cubic yards of concrete and 2.6 million pounds of reinforcing steel.
A new approach on I-65 South (Indiana approach) is also being built. The work includes complete removal of the existing approach. The new approach includes 4.1 million pounds of new steel beams and 2,100 cubic yards of new concrete.
The improvements are expected to add at least 35 years of new life to the Kennedy Bridge.
Timeline
One lane of the Kennedy Bridge is expected to reopen in late July, restoring access from I-65 South to I-64 West, I-64 East and I-71 North. The remaining lanes of the Kennedy Bridge will be closed until late 2016, near the end of the project.
in Jeffersonville finishing $1.3M renovations
By ELIZABETH BEILMAN
Posted: Sunday, January 17, 2016 7:30 am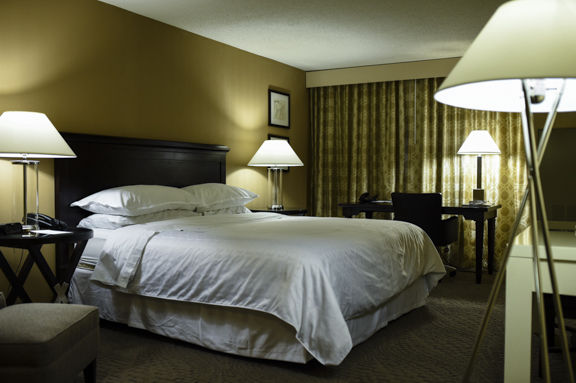 Sheraton Hotel Reno
A completed room, fitted with a king bed and new decor is pictured at the Sheraton Hotel in Jeffersonville.
JEFFERSONVILLE — Timing is everything behind the $1.3 million in renovations at the Sheraton Louisville Riverside Hotel, meant to refresh the 180-room building with a view of Louisville.
Patrick Gregory, general manager at the Jeffersonville hotel, said he's anticipating the completion of the Ohio River Bridges Project this year and of the Kentucky International Convention Center expansion opening in 2018.
"We want to be ready and finished when those two things happen," Gregory said.
Renovations at the Sheraton are nearing the end, as work moves into the final phase — upgrading the guest tower, which includes new carpet and furniture in rooms and new carpet and vinyl in the 10 guest corridors. Those renovations should be finished by the end of March.
Work began about a year ago, with a full renovation of the flooring and furniture in the lobby in addition to upgraded digital signage throughout the hotel's meeting space. The focus then shifted to exterior renovations of the Bristol Bar & Grille that is connected to the Sheraton's lobby and carpet and furniture upgrades in the commercial area and annexation.
Though these improvements aren't small, they're mostly cosmetic and much less involved than the $20 million worth of structural renovations the Sheraton underwent in 2008.
"There's not any heavy construction," he said. "There's more guest experiences renovation because it's just newer products for the guests to use."
Yet they're improvements that make the Sheraton more competitive in the Louisville area's booming hotel industry, said Jim Epperson, executive director for the Clark-Floyd Counties Convention and Tourism Bureau. Many hotels are opening or have opened in Louisville, including the Omni Hotel downtown, Hilton Garden Inn and Aloft.
"So that investment in new hotels drives that reinvestment in existing hotels," Epperson said. "And so we've got our own reason for that kind of boom."
Hotel renovations aren't kept secret.
"The hotels will put information like that on their websites and their descriptions probably within the booking sites like Orbitz, and then if they are able to maintain a listing with their information on Trip Advisor, they'll tout that wherever they can," he said.
And it's not just hotel owners who advertise their freshened facades.
"If you've got a customer doing a Trip Advisor rating who's ... paying attention, they'll probably say something about the renovation, too," Epperson said.
Gregory said he hopes the Sheraton's recent improvements can increase the hotel's annual average occupancy rate of about 70 percent over the next few years.
He also hopes the spill-off from Louisville's growing hotel market can attract a new customer base to the Sheraton.
"It's going to make us a property where some of the higher-end clientele will choose, and that's what we want," Gregory said.
High-end customers are usually better guests in general — they're better to each other, they take care of the property and they pay higher premiums, he said.
For a long time, the Sheraton has been one of the few hotels in the area near the Ohio River.
Epperson said that's about the change.
Marriott Towneplace Suites is locating at the former Rose Hill Elementary School property across from Big Four Station in downtown Jeffersonville. Epperson said he's heard whisperings of other locations for new hotels, such as the Gateway property at 10th and Spring streets and near River Ridge Commerce Center, both in Jeffersonville.
"We've always thought that as River Ridge develops, the demand for business travel increases, and so that will create demand for rooms on this side of the river," he said. "And so I think a lot of the interest in new hotel development on this side is not just because of what's going on in Louisville, but it's also responsive to River Ridge."
While the Sheraton will be joined by many new hotels in Louisville and Southern Indiana in the coming years, Gregory still looks ahead toward his establishment's prosperity.
"We've had a great run here in Jeffersonville, and we're interested in upgrading the facility so we can be successful in the years to come," Gregory said.